Ratchet Belt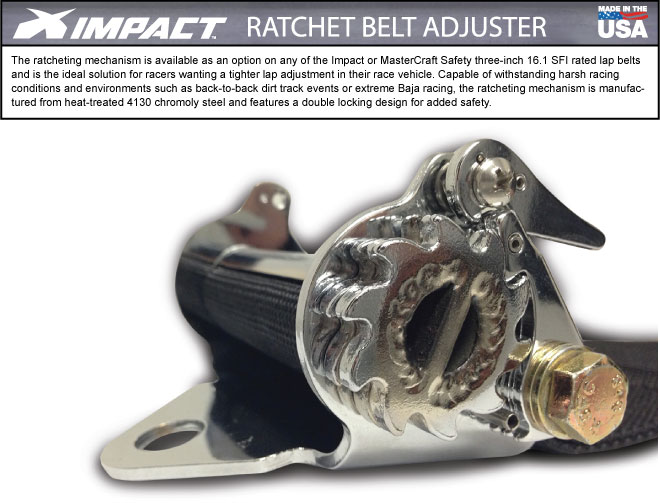 In response to overwhelming demand, Impact and MasterCraft Safety have introduced a new ratcheting mechanism for our 16.1 SFI three-inch lap belts. Specifically engineered with extreme racing conditions in mind, Impact and MasterCraft Safety have extensively tested their American-made ratcheting lap belt in both the lab and on the race course through CEO Robbie Pierce's off-road racing efforts in his SCORE Trophy Truck. "Getting the belts tight enough in the heat of battle when off-road racing is very difficult," Pierce explained. "Particularly when getting back in the truck after a tire change or other issue. This ratcheting mechanism allows for a faster and tighter adjustment of the lap belt without any assistance from the co-driver or a crew member."
The ratcheting mechanism is available as an option on any of the Impact or MasterCraft Safety three-inch 16.1 SFI rated lap belts and is the ideal solution for racers wanting a tighter lap adjustment in their race vehicle. Capable of withstanding harsh racing conditions and environments such as back-to-back dirt track events or extreme Baja racing, the ratcheting mechanism is manufactured from heat-treated 4130 chromoly steel and features a double locking design for added safety.
MasterCraft Safety's ratcheting mechanism can be specified for either the left or right side use. Both feature a bolt-in installation on the mechanism side while the opposing side can be customized to the user's preference with either a snap-in or bolt-in end. The ratcheting mechanism replaces one (left or right, depending on your preference) of the standard lap adjusters allowing the belt to be quickly and easily tightened independently by the competitor, without the assistance of crew members. The mechanism uses a 1/4-inch drive ratchet found in every racer's toolbox for adjustment.