Driving Suit FAQ
Please see the chart below to determine which standard suit size is appropriate for you. This is a general guideline for our standard suits (Racers, Team Drags, etc). If you'd like us to determine this for you, or if you'd like to order a custom suit, please download our custom sizing chart from the downloads page and provide a full set of measurements to us.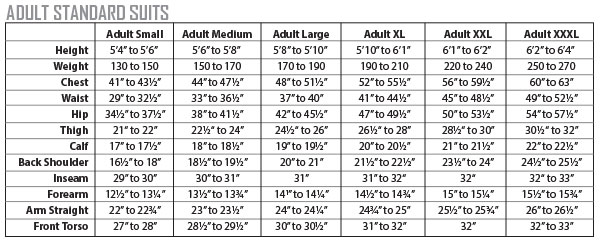 Or click here to download a printable PDF chart of our standard suit sizing with a diagram to help you find your measurements needed to help you find your Impact standard size.
Or if you decide you'd rather have a custom made suit to match your personal measurements click here to download a printable PDF chart of our custom suit measurement form and contact our sales department (317-852-3067) to get your custom suit order in motion.
---
How do I care for my firesuit?
The cleaning and care of your new MasterCraft Safety / Impact suit is extremely important to the durability and integrity of the product through its life cycle. Certain chemicals and detergents can degrade the fire retardant materials used in the manufacture of this garment and can compromise the integrity of the suit.
---
• Machine wash on a delicate cycle in luke warm water (maximum temperature of 40 degrees Celsius)
• Wash the garment right side out (not inside out) to protect the hook and loop closure and other adornments from damaging the inner quilting.
• Use a gentle laundry detergent (not soap), ensuring the detergent is as close to a neutral PH balance as possible (minimal acids or Alkalis).
• Do not use chlorine bleach or chlorine based stain removers.
• Tumble dry garment on low for a few minutes to remove moisture, hang to dry.
• Always store your suit in a suit bag, away from direct sunlight as to avoid ultraviolet degradation of the garment's fabric and materials.
---
WARNING
Impact is Not Responsible for Fit Issues Due to Shrinkage:
While some shrinkage is normal over the course of the life of the garment, it is not enough to have an adverse effect on fitment. Improper laundering of Nomex threaded garments will cause excessive shrinkage. Most often associated with Dry Cleaning, excessive heat during the wash or drying process is the most common cause and Impact will not be responsible for shrinkage. Customers returning garments to be altered due to shrinkage will be charged for the alterations needed to correct the suit back to its originally constructed size.
---
Repair and Maintenance Instructions
Should the MasterCraft Safety / Impact driving or crew suit become damaged it is strongly recommended that the suit be replaced rather than repaired. Should the user wish to try and repair minor tears or abrasions, all repairs should only be conducted using the same thread and material that was used in the construction of the garment, by the original manufacturer.
It is recommended that only the original manufacturer of the garment make any repairs to the garment and/or its embroidery. It is recommended that all garments be inspected regularly for repair and maintenance. MasterCraft Safety / Impact assumes no responsibility for repairs and maintenance to our manufactured garments not performed by us.
Embroidery and Decorative Patch Instructions
The construction of the driving or crew suit, such as the sewing and seaming methods, are just as important to the integrity of the garment as the fire retardant materials used to manufacture the suit. Quilting of the inner liner to the outer layer is standard on all two-layer (and higher) MasterCraft Safety and Impact driving suits. The purpose of the quilting is to improve air circulation and to transfer heat at a slower rate and with less force and energy. The air pockets formed between each quilted stitch pattern delays the heat from being transferred to the body as quickly therefore it is important to preserve this protective air-layer by not penetrating the inner layer of the suit with embroidery or decorative additions. For this reason, MasterCraft Safety and Impact embroider only the outer layer only prior to final assembly of your driving or crew suit.
That being said MasterCraft Safety / Impact is one of the few manufacturers worldwide that can custom embroider only the outer layer of a suit prior to it being constructed together in final assembly. Only the original suit manufacturers have access to the outer most layer of the suit during its garment manufacturing process. To maintain the integrity of your suit, aftermarket embroidery and adornments should never penetrate the inner protective layer(s) and any additions to the garment should not interfere with its intended use and/or the thermal protection properties.
Should you require specific sponsor branding and similar adornments added to your suit after purchase, patches conforming to the ISO 15025:2000 standard for protective clothing are highly recommended. To maintain the thermal protection rating and overall integrity of the suit, MasterCraft Safety and Impact recommend that patches and badges should be manufactured from fire retardant thread and material (such as Nomex®) and should comply with the ISO standard 15025:2000. The patches and badges should also be affixed to the driving or crew suit using a fire retardant thread (such as Nomex®) and the thread should only penetrate the outer most layer of the driving suit. Glues and other adhesives (including iron-on methods) are highly flammable and should not be used to affix the patches or badges. The backing material of badges and patches should be flame-retardant and in conformance with the original intended purpose of the suit. When affixing adornments, heat-bonding should not be use and the garment should not be cut or otherwise altered.
---
Recertification of SFI 15 & 20 Rated Driver Suits
Inspection and recertification program for SFI 3.2 A/15 and SFI 3.2 A/20, driving suits manufactured by Impact.
Products covered: Any driving suit manufactured by Impact with an SFI rating of 3.2 A/15 or 3.2 A/20, manufactured on or after January 1st, 2010.
Suits will be inspected for eligibility of SFI recertification. Upon inspection if the suit is found to be eligible for SFI certification, it will be recertified and dated. If the suit is inspected and is not eligible for recertification, the suit will be rejected and the customer will be contacted with a full explanation of why the suit is not eligible for recertification.
Some possible, but not limited to, reasons a suit may not be eligible for recertification…
• Tears and/or separated seams.
• Contamination by flammable, unknown or any substance that may inhibit the suits ability to provide adequate protection.
• Improperly working closures, such as zippers or worn hook and loop fasteners.
• Knitted cuffs that are stretched excessively as to compromise a tight fitting seal and allow an entry point for heat, flame or flammable materials.
• Burn marks - Any suit found to have evidence of being involved in a fire will automatically be rejected and will not be eligible for recertification.
• Unauthorized modifications – Any suit that is found to have modifications not performed by Impact will be automatically rejected and not eligible for recertification.
In some instances, a repair may be available that will allow the suit to be recertified. If a repair is available to bring the suit up to specification, a quote will be given to the customer, and written customer approval will need to be received prior to any repair work being performed.
Cost of Inspection: $75.00, and includes full inspection of the suit, minor repairs (stitching-only, repairs of less than 1", limited to 2 repairs per suit) and a new SFI tag with current date when applicable.
Suits must be sent in clean condition. Suits that are soiled/excessively-dirty will be assessed a $50 laundry charge or returned at the customer's option.
---
The below information and included links were taken direct from the SFI Foundation's website and are offered as an additional resource for Restraint System safety and information:
Here is a downloadable PDF file an article regarding SFI specs, TPP ratings and the importance of a quality driver suit.
And here is information regarding SFI's 3.2A driver suit specification.