Impact REV FAQ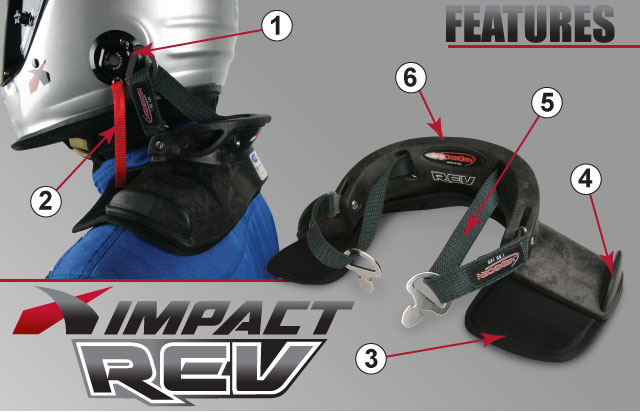 1. Quick Release Helmet Hardware: Unique single hand, quick eject helmet attachment system..
2. Emergency Pull: Optional pull tag for quick disconnect.
3. Padding: The shoulder and collarbone padding provide added comfort to the unit.
4. Restraint Guides: Large adult units can accept 2" or 3" seat belts. Small unit accepts 2" belts only. The restraint guides aid in keeping your harness in place under impact, even in multiple impact situations where the belts could loosen.
5. Tension: Neutralizing Tether - Using a proprietary single tension-neutralizing tether (TNT), the loads under impact are distributed through four different load paths. This unique system offers an equal distribution of forces under impact. This system also offers a full range of head motion and side and angular impact protection.
6. Low Profile Design: The low profile design makes egress in and out of the car in an emergency easier.
---
Does the Impact REV unit come in different sizes?
Yes. Impact REV comes in 3 sizes. The Large unit fits most adults, typically a driver 100 lbs or more. The Medium unit is for smaller torso drivers 1" narrower but still accepts 2" or 3" seat belts. The Small unit, also fits small torso drivers, typically women or anyone less than 100 lbs. The Small size accommodates only a 2" seat belt.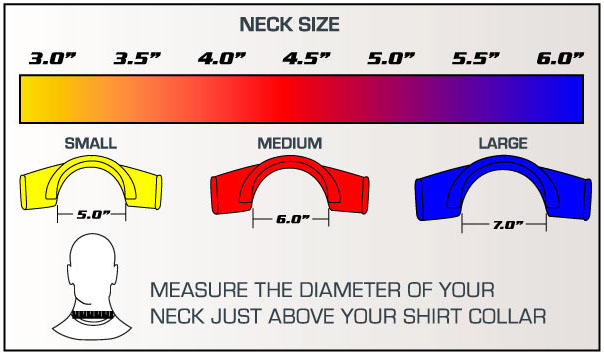 ---
Where is the Impact NecksGen made?
Made in the USA! Specifically in San Diego, California.
Has the Impact REV passed any safety standard testing?
Yes - the Impact REV has passed the mandated SFI 38.1 testing. Due to the innovative features of the design, the REV frontal head restraint has surpassed our expectations in test results.